Nepal, though a geographically small area, has a lot to offer when it comes to tourism. It has the distinction of having the highest peak, highest Lake, deepest Lake, deepest gorge, highest valley, and the highest hotel in the world. Nepal has all sorts of places like natural, cultural, historical, adventurous, religious sites to make your trip a memorable one. Before we jump into 20 best things to do in Nepal, let's know some facts and information.
The official language is Nepali. The national currency is Nepalese Rupee. Before we travel to Nepal, the important thing to know is the best time to visit Nepal. The best time to visit is between late September and early December as the skies will be clear and you can enjoy the scenic beauty. Another feasible time is between March and May, as you can enjoy the spring season. Find here Top 20 Things to do in Nepal :
Important places to visit : Kathmandu, Patan, Bhaktapur, Pokhara, Nagarkot, Lumbini, Janakpur.
Nepal offers a wide range of activities: Trekking, Fishing, Boating, Flying/Paragliding, Shopping, Safari, Bungee jumping, etc.
Top 20 Activities to do in Nepal
1. Everest Base camp trek
Whenever we think about the word 'height,' one thing will definitely come to our brain, the Mount Everest. The foremost thing that one shouldn't miss in Nepal is visiting the Everest, the world's highest peak. The trek route passes through Himalayan forests and villages and is not an easy one to pass through. You can reach a height of almost 5360m through this trek. Though a difficult task, it will remain as one of the most memorable journeys in your life.
Also Read : 5 Most Famous Treks in Nepal
2. Rafting in Upper Seti river
For those who love water sports and adventures, this place is a popular destination. It offers the thrill and joy of rafting along with beautiful landscapes surrounding the river.
Also Read : How to spend Winter Holidays in Nepal?
3. Bungee Jumping
Nepal is not only about heights and trekking. Extreme adventure lovers can go for bungee jumping, where one can witness the thrill of traveling down the natural valleys in a short span of time. Though a scary one, it will definitely boost your confidence once you finish it.
Also Read : Best Experimental Tour Operator Of Nepal
4. Visit Boudhanath Stupa
Boudhanath Stupa is one of the largest Stupas in the world. Considered to be the tomb of remains of Kassapa Buddha, this stupa has a prominent place in Buddhism and Architecture. UNESCO declared this as a World Heritage Site, which signifies its importance.
Also Read : 12 Must Visit Places in Nepal
Recommended Tours : 4 Days Kathmandu Cultural Tour
5. Visit Phewa Tal lake
Wanna go for a calm, scenic, romantic boating ride! Boating in Phewa Tal lake will never let down your expectations. You can watch the glaciated rivers while boating and enjoy the delicious Nepali food in the food courts outside the Lake.
Also Read : Top 6 Reasons to Visit Nepal
6. Visit Lumbini
Lumbini is a world heritage site. Being the birthplace of Lord Buddha, the peaceful environment and monasteries and lakes of this place will calm your soul, definitely irrespective of your religion. The Maya Devi temple stands out to be a special attraction.
Also Read : Best Wholesale Tour Operator In Nepal
7. Casinos
If you are fun-loving and don't take money too seriously, you can spend an exciting night at Nepal's Casinos and try your luck.
Also Read : How to plan Nepal Holidays
8. Durbar Square
The area in front of the Royal palaces in Nepal Is called Durbar square. There are 3 Durbar squares in Nepal which are World Heritage sites. The most famous among these is the one at Kathmandu. Here you can witness the artistic workmanship along with a Hanuman statue, a Hindu God.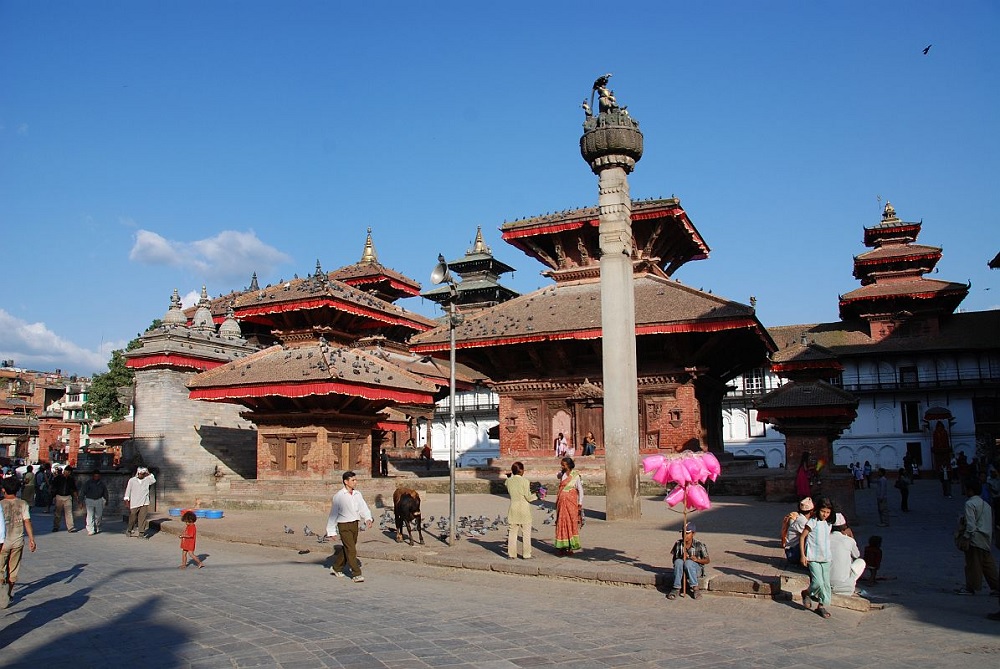 9. Explore Pokhara
Pokhara, is not just a lakeside town, it offers an array of activities for tourists like fishing, boating, mountain biking, canyoning, sunbathing, trekking to Annapurna Base camp.
Recommended Tour : 7 Days Kathmandu and Pokhara Tour
10. Explore Kathmandu
Being the capital of the country, you can witness the Nepali food, Yoga, Traditional crafts, visit Hindu temple Pashupati Nath and Buddhist shrines Boudhanath and Swayambhunath.
Recommended Tour : 7 Days Kathmandu Pokhara Chitwan National Park Tour
11. Chitwan National Park
This is the best place for nature and wildlife lovers. This site, too, is a UNESCO World Heritage Site. You can watch one-horned Rhinos, Asian elephants and Bengal Tigers, crocodiles, and around 500 species of birds. You can even go for boating, enjoy a jungle Safari.
Recommended Tour : 6 Days Kathmandu Chitwan National Park Tour
12. Gokyo Lakes
These are the world's highest freshwater lake system and a perfect place to look at the Everest mountain. The view from the Gokyo Lakes is definitely unerasable from one's memory.
13. Siddha Gufa
Nepal is not only about heights, but it also has some deep caves too. This 437m deep underground cave is the largest cave in Nepal. The most interesting aspect of this cave is that it a Natural one.
14. Golden Temple
Located in Patan, this temple is called Kwa Bahal locally, which translates to 'Gold colored Great Monastery.' This Historic temple built in the 13th century has survived to this date.
15. Patan Museum
Located in Patan, this is one more UNESCO world heritage site in Nepal. This Museum provides us with the cultural history of Nepal. One can go through both Buddhist and Hindu cultures in this Museum.
16. Wander and Shop in Thamel
The city offers everything a traveler needs. You can wander in the narrow streets, stay in the cozy hotels, go shopping, meet the locals, purchase your trekking equipment. You can spend your leisure time here.
17. Participate in Nepali Festivals
Most of the major festivals of Nepal like Indra Jatra, Bada Dashain, Maha Shivaratri, Holi coincide with the best season to visit Nepal. You can take part in them, engage with the locals, learn their culture.
18. Eat Momos
The taste of this mouth-watering dish is many times greater than its size. Nepal offers different varieties of delicious momos, which is said to have originated in Tibet. This small energy-packed dish provides you the energy required while trekking. If possible, learn how to prepare momos from the locals.
19. Fly over the Everest
Everest is not limited to trekking. A much more fascinating experience is to fly over Everest at the height of around 7000 – 8000m and get an eye view of the mighty Everest.
20. Sagarmatha National Park
A UNESCO world heritage center, it is home to rare species like snow Leopard and lesser Panda. This area is dominated by Mount Everest and consists of glaciers, valleys, and mountains. Sagarmatha is the local name for Everest.